Visitor Information Centre
When you arrive in the Paroo region, make sure to stop by the Cunnamulla Fella Visitor Information Centre at 2 Jane Street, Cunnamulla, our staff can provide a wealth of knowledge and information on the region.
The carpark at the Visitor Information Centre can cater for those travelling in: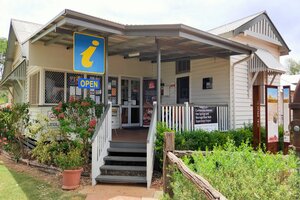 Coaches
Caravans
4WDs
Motor homes
Easy turn-around for large vehicles
Contact our Visitor information Centre on (07) 4655 8470.
For further information visit the www.cunnamullatourism.com.au
The below information should be taken into account when planning your holidays. Please book your accommodation early in the high season.
Visitor Centre Opening Hours
High Season
(March to October)
Low Season
(November to March)
Monday - Friday
9.00am - 4.30pm
9.00am - 4.30pm
Saturday & Sunday
10.00 am - 2.00pm
CLOSED
Visitor Guide
Thinking about visiting Cunnamulla? Why not get an idea of what attractions are available by exploring our newly improved visitor guide.