Community Programs and Assistance
Community Donation Package 2020/21 - for events between January 2021 to June 2021
Applications for the Community Donation Package 2020/21 open on 1 January 2021 and will be an ongoing process until the money is spent. Organisations are able to submit one application per community event/activity.
Council supports the growth and development of the Shire's community organisation network and facilities to improve community wellbeing. Community organisations operate a diverse range of facilities, programs and services for shire residents and visitors.
Funding and assistance made available by Council is aimed at building community capacity and/or providing supplementary funding to assist with social, cultural, recreational and environmental outcomes that contribute to the development of inclusive and sustainable practices of community groups throughout the Paroo Shire.
Download Community Donation Package 2020/21 Guidelines, Application Form, and Acquittal Form
For more information contact Toni Pender (Manager - Community Services) on toni.pender@paroo.qld.gov.au or phone 0487 558 422.

2020/21 Summer School Holiday Program
Keep the kids busy over the summer holidays with the School Holiday Program, with activities being run by Council and the Cunnamulla South West Indigenous Network (SWIN).
The age limit for activities is ages 9-18, with children under the age of 9 able to attend but must be accompanied by an adult for the whole duration of the activity.
2020/21 Summer School Holiday Program
For more information phone the number associated with each activity in the above School Holiday Program.
To keep programs enjoyable and safe for all who attend, Council and partnering organisations would like to make you aware of the policies and basic behaviours expected at programs. Suspension length will be determined by the officer in charge of the programs and the severity of the behaviour undertaken.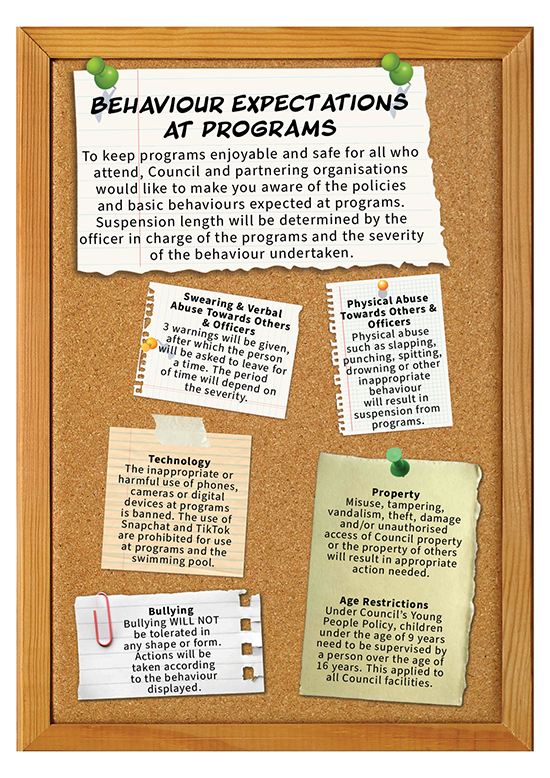 Community Support Program
Contact: 07 4655 8421 or 0487 558 422
The Community Support Program responds to the identified and emergent needs for the local community with a priority on vulnerable individuals, families and populations. This program integrates with the broader community services system to actively promote community engagement and connectedness. This includes the balanced mix of quality programs, and activities that build skills, provide knowledge, promote personal and social development, promote physical well being and create and sustain local networks.
The Community Support Officer coordinates programs including but not limited to the below:
Australia Day
Clean up Australia Day
Seniors Week
Community Education
NADIOC Family Fun Day
QLD Week
Interagency Meetings
RADF

Indigenous Community Sport and Recreation Program
Contact: 0476 835 383
ICS deliver an array of activities to enhance Aboriginal and Torres Strait Islander participation in sport and recreation activities. This is building community capacity through training and support networks as well as raising the standard of service delivery through best practice models and peer mentoring.

Youth Support Program
Contact: 07 4655 8400 or 0438 554 822
The focus of this program is youth at risk and addressing volatile substance misuse. Services have been refocused into a single youth support approach to ensure they meet the needs of young people, particularly those who are vulnerable. Youth Support services are targeted specifically at young persons aged 12 to 18 years who are at risk of disconnection from their family, community, support networks; disengagement from school, training and/or employment; harm including self-harm; and who are homeless or at risk of homelessness. Youth support services focus on four main key areas:
connect to positive family support;
get a job or engage in training or education;
lead a healthy and violence-free life; and
have a safe, stable place to live.