Eulo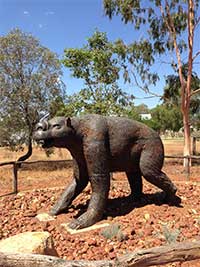 Situated 68km west of Cunnamulla, it has been said to be the Montville of the south west.
Businesses in the town sell local crafts and produce and Eulo also features the fabulous Artesian Mud Baths.
Unique to the Shire and just west of Eulo you will find the natural phenomenon known as the Mud Springs which are release valves for the Great Artesian Basin. Eulo also has a General Store, Fuel, Motel, Postal Agency, Primary School, Police Station and is serviced by Royal Flying Doctor Clinics.
Learn more about Eulo: