Artesian Time Tunnel
The Artesian Time Tunnel at the Cunnamulla Fella Visitor Centre provides visitors with an opportunity to gain an understanding of the importance of water from the Great Artesian Basin to sustain life and support our pastoral and mining industries.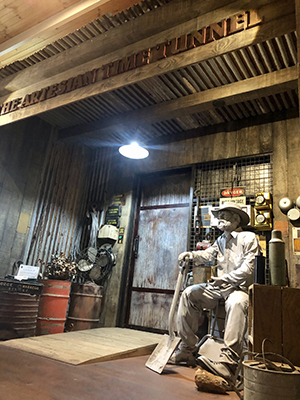 The Artesian Time tunnel incorporates an old mine lift which takes travellers back in time 100 million years and down deep into the middle of ancient sandstone rocks that form part of the Artesian Basin and discover the home of ancient animals and Australia's largest dinosaurs that roamed the Eromanga Inland Sea many millions of years ago. You will experience an old opal mine and hear about the "Yowah Nut" and the early days in the opal fields. After you complete the journey back in time, sit in the comfortable theatre and enjoy a short film on the Artesian Basin and the rehabilitation of the same.
This is a must-do experience when visiting Cunnamulla.
For further information, contact the Cunnamulla Fella Visitor Information Centre on 07 4655 8470 or email visitor@paroo.qld.gov.au
For further information visit the Cunnamulla Tourism website.